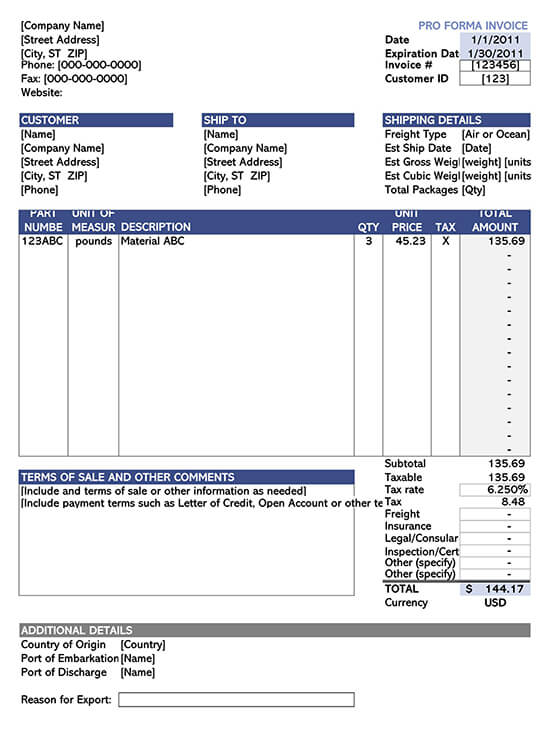 Every business owner should know about a proforma invoice, as it is essential in some cases to create such an invoice. Novice entrepreneurs do not understand the use and concept of this invoice. On the other hand, many other businesses often misunderstand proforma invoices. In this article, you will find information on this invoice. So, what is a proforma invoice? Find the answer below.
Proforma Invoices Are Not True Invoices
The first and foremost thing to know about a proforma invoice is that the invoice is not a valid invoice. Since the invoice does not come with a unique invoicing number, it does not have legal recognition. For not being legally recognized, the invoice comes with the following features.
· Proforma invoices come with an amount, though the customers do not require paying the amount.
· Since the invoice does not have legal recognition, a business cannot claim VAT on the proforma invoice.
· Companies should not use such invoices for listing dues from the customers.
Use the Standard Invoice Layout of Your Business
For creating proforma invoices, a business does not need to use a separate format. You can use the existing business invoice format to create such invoices. Elements that you use for your regular invoices will remain the same for the proforma invoices. For example, the invoice will include logo, contact information, products, quantities, prices, VAT, etc.
So, creating a proforma invoice is not a difficult thing. You can use your existing invoicing system to generate proforma invoices. For example, one can use Monite for generating such invoices. Monite is an online platform for creating and storing invoices on the cloud server. You can create and send invoices instantly to clients using this cloud-based invoicing platform.
Quotes are Not Proforma Invoices
For providing a quotation on a product or service, businesses use invoice papers. However, such invoices are not actual invoices. Similarly, proforma invoices are not real invoices. As a result, people often consider such invoices similar. However, there are many differences between quotes and proforma invoices.
Businesses create proforma invoices when the buyer has committed to purchase something. On the other hand, asking for a quote is not a commitment to buy anything. The prices mentioned on proforma invoices are not final. Change in prices happens to the final invoice in most cases. The price on the quotation may remain the same if the buyer does not seek any additional products or services.
Proforma Invoices Can Fetch Quick Payments
To know what is a proforma invoice, one should know the uses of such an invoice. Businesses issue such invoices to obtain a quicker payment from the clients. Through such invoices, a business can let the customers know the payable amount in advance. Since buyers know the amount before obtaining the final invoices, they can quickly arrange the fund and pay the money.
Rectifying Mistakes Becomes Easier

Issuing proforma invoices makes a business rectify invoicing mistakes easily. Corrections in the final invoice can become a complicated thing. Changes can happen in proforma invoices anytime. Thus, the final invoice becomes free of errors.