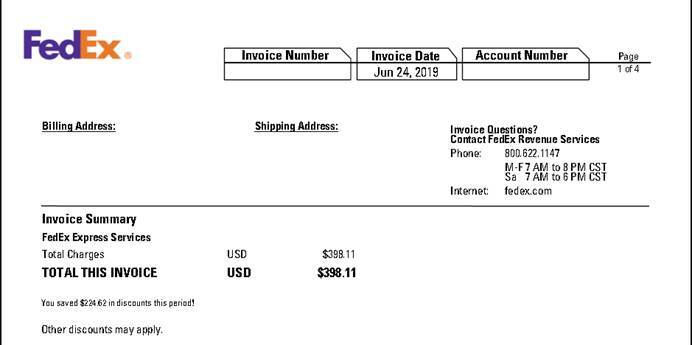 FedEx, originally known as Federal Express Corporation, is a courier service company. It is known for its air delivery system. However, there may be a billing issue regarding paying the duties and taxes. Usually, FedEx pays for the duty and custom bill so that you can get your package as quickly as possible.
Later, you will receive an inbox regarding the amount that you must pay them for the taxes. There may be a possibility that you already had a deal with the seller. The agreement may state that they will bear the charges. In that case, you need a contract of sale to prove that you will not accept the charges.
Generally, if you do not have a customs broker, then FedEx will bear the charge initially. It is good to know the complete details of the costs that you might have to pay before placing an order. However, here is what you can do if you have an issue regarding their invoice, and also learn what happens if I don't pay FedEx invoice:
How to Raise an Issue Regarding a FedEx Invoice?
If you have an issue regarding FedEx billing, then you may raise an issue or dispute. However, you must keep in mind to raise the issue before proceeding to pay. You can submit your dispute online. It will be great to use FedEx billing online for raising the issue.
Visit the 'Account Summary' page and then choose the invoice number if you want to raise an issue against the entire invoice. The server will direct you to the online invoice screen to check the details, and there you can select the 'Dispute Invoice' option. However, if you want to dispute an individual shipment, then you may choose the 'Dispute Shipment Charges' button.
You may also need to submit the reasons for the dispute and other necessary details to support your claim.
Will, It Be Problematic If I Do Not Pay for the Invoice?
It may be problematic if you do not clear your FedEx dues. You may be in unnecessary trouble if you do not pay your customs duties, especially when importing goods. It may lead to complications for future transactions too. However, you have every right to question the authorities regarding the charges.
But it falls under the rules and regulations; then you must pay. It is not a good idea to enter into a disagreement without any official document to support that you are not liable to bear the charges.
However, it may so happen that you forget to pay the due in that case, it is good to have a reminder. But many individuals complain that reminders too can be problematic. In that case, you can visit the website of Monite. They have automatic systems to clear dues from an invoice.
You can simply forward your invoice to them, and they will clear your payment. Hence you can avoid delays. The best part is that you can even submit comments on the invoice for the seller to refer to, reducing overcrowded inbox.