A solution for accepting payments is critical for any merchant. And B2B platforms that serve merchants, such as neobanks, marketplaces, and vertical-focused apps, are constantly looking for ways to make their solutions more compelling. So if your B2B platform could offer merchants a way to accept payments, you would have a great upsell opportunity.
For example, imagine you are an accounting platform targeting small and medium sized businesses. If you can offer your SMB merchants a solution to accept payments, you benefit from:
A compelling new product that supports your core offering,
The ability to open up new revenue streams and generate more revenue per customer, and
Increased stickiness of your platform, since leaving your accounting platform will also mean that your merchants need to integrate with a new payments provider first.

The Problem
The potential of this kind of value unlock should capture the attention of any B2B platform. However, offering a compelling payments solution is not straightforward. Let's take a look at why this is the case.
most logical way to embed a payments solution into your product offering is to partner with a recognized and trusted payments provider such as Mollie, Stripe, or Adyen, which will ensure your merchants benefit from a reliable solution that includes a range of payment methods plus built-in risk solutions, and so on. But there are two key problems with this approach.
First, if you partner with a single major payments provider, you are not adding significant value to your customers. As a critical business function, the overwhelming majority of merchants will already have invested in a solution that meets their needs, so there would be little reason for them to switch to your embedded solution.
And second, every payments solution has limitations and risks. No matter how good a single payments provider is, they will always lack certain payment methods, optimizations, functionalities, and so on.
Ultimately, if you embed a single payments provider such as those mentioned above in your product offering, you are passing on all its limitations to your customers, in terms of payment methods, risk management, and so on. And in a worst-case scenario, if the payment provider has downtime, this will impact your customers directly.

Introducing Multi-Rail Payments – and why it benefits your merchants
However, there is a better option to embed a payments solution into your product offering – multi-rail payments.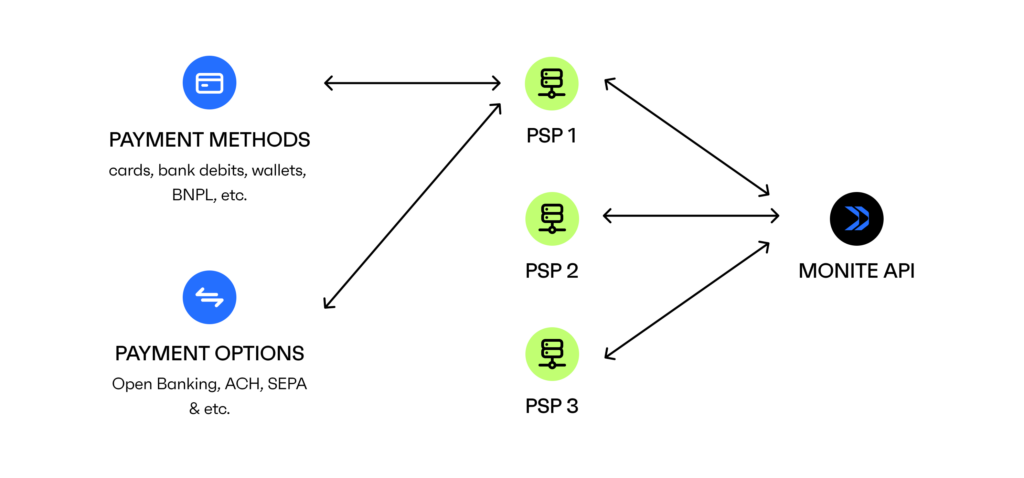 As you can see, a multi-rail payments solution aggregates a range of payments solutions and brings all these together under a single Monite API.
The concept is relatively straightforward, but the advantages are broad. With a multi-rail payments approach, Monite's customers' customers can benefit from the strengths of every payments provider, while reducing the dependency and risks associated with having a single solution. This means:
The right payment methods. Your merchants can offer the payment methods they want for their particular market or vertical, no matter what the limitations of any individual payments provider.
Ease of integration. Since it is a single API that aggregates connections to multiple players in the payments value chain, it is far faster and easier to do this than if a platform or merchant did this directly.
Lower costs. On a related note, since Monite is aggregating payment solutions for multiple platforms and an even greater number of merchants, the cost for the merchant to connect to multiple providers and solutions is far lower than if they did it themselves.
Redundancy. Even if one provider fails, or a connection is sub-optimal, there will always be fallback options if needed.
New revenue streams. You are able to generate more revenue per merchant through this compelling new product.
And finally, open banking optimization. Open banking is becoming increasingly important for many merchants. However, the connections of individual providers are not always airtight, and every provider has geographical limitations. With Monite, multiple connections means you benefit from the most stable connections and the widest geographical reach.
With a multi-rail payments solution, your platform is in a position to offer a compelling and cost-effective alternative to your merchants' existing payments setup.
The Big Opportunity: building to be best in class, buying to be all-in-one
And beyond these benefits, there is a much bigger long-term prize. Resources dictate that most B2B platforms need to make a choice whether to build a best-in-class solution, or an all-in-one solution. But actually, there is a third way, which combines the best of both worlds.
Embedded finance specialists such as Monite build financial automations at scale, and multi-rail payments is only one of the products that are on offer. Consider the huge range of financial automations that your platform could offer – invoicing, payroll, accounts payable, and expense management, to name a few.
Building these out internally is a daunting task – expensive, time-consuming, and incurring huge technical debt. But by partnering with a provider such as Monite – which has already solved complexity and edge cases at scale – you can retain a core focus on building what makes you best in class, while simultaneously buying products that make you an all-in-one solution for your B2B customers.
With the new approach, you are in a position to leapfrog competition on either side of you, both those competitors building for best in class, and those building for all-in-one. All the while ensuring your solution is extremely sticky and with multiple ways to monetize.